2 ton/3 ton/5 ton/10 ton/50 ton to 100 ton Tension Load Cell for Crane
Tension load cell ATO-S-LCST-TJL-7 is the most common type of load cell for crane, crane limiter, hook scale, all the lifting equipment measurement and tension force monitoring. The installation of the tension load cell is very simple. Just tied the wire ropes to the holes at both ends of tension load cell, and keep the wire rope from falling off or breaking.
Tension load cell has various capacities for choice, from 2 ton, 3 ton, 5 ton, 10 ton, 20 ton, 50 ton to 100 ton. Other capacities are also can be customized.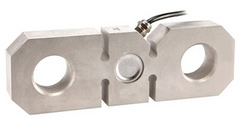 Tension load cell for crane specification:
| | |
| --- | --- |
| Model | ATO-S-LCST-TJL-7 |
| Shipping weight | 1.5~10kg |
| Capacity range | 2 ton~100 ton |
| Accuracy | 0.03~0.05%F.S (linearity + hysteresis + repeatability) |
| Sensitivity | 2.0±0.1mV/V |
| Creep | ±0.02%F.S/30min |
| Zero output | ±1%F.S |
| Temperature effect on zero | ±0.02%F.S/10℃ |
| Temperature effect on output | ±0.02%F.S/10℃ |
| Operating temperature | -20℃~+65℃ |
| Input impedance | 380±10Ω |
| Output impedance | 350±3Ω |
| Insulation resistance | ≥5000MΩ |
| Safety overload | 150%F.S |
| Bridge voltage | DC 10V |
| Material | Alloy steel |
| Protection class | IP67 |
| Cable length | 2m (<5ton), 5m (≥5ton) |
| Wiring | EXC+: Red, EXC-: Black, SIG+: Green, SIG-: White |
Tension load cell for crane dimension:
Capacity
Dimension (mm)
A
B
C
D
Ф
2~3 ton
200
65
25
130
32
5 ton
230
70
30
150
36
7~10 ton
300
90
38
200
45
15~20 ton
330
110
42
205
60
30 ton
350
126
50
216
60
50~70 ton
500
180
60
320
72