Load Cell Junction Box with 2/3/4/6/8/10 Inlets to 1 Outlet
Load cell junction box is an important device in weighing system. For weighbridge or hopper scale, one load cell is not enough, we often need 3~4 load cells or even 6 load cells to finish weighing control. At this time, we should use a load cell junction box to let
multi load cells in parallel connection work mode
and keep the balance of the weighing system.

ATO-S-LCJBX-JXH-S series is a 2/3/4/6/8/10 inlets to 1 outlet load cell junction box. For 4 load cells, we can choose ATO-S-LCJBX-JXH-S4. For 6 load cells, we can select ATO-S-LCJBX-JXH-S6. For more than 10
load cells
, we can also use multi junction boxes to complet connection.
Load cell junction box specification
:
| | |
| --- | --- |
| Model | ATO-S-LCJBX-JXH-S |
| Accuracy | ±0.1%FS |
| Number of channels | 2 inlets to 1 outlet, 3 inlets to 1 outlet, 4 inlets to 1 outlet, 6 inlets to 1 outlet, 8 inlets to 1 outlet, 10 inlets to 1 outlet |
| Multi-channel input signal | 0-20mV |
| Output signal | 0-20mV |
| Power supply | DC 12V/24V |
| Shell material | Aluminum alloy |
| Working temperature | -20~+85℃ (-4~+185℉) |
| Protection class | IP67 |
Load cell junction box with 4 inlets to 1 outlet dimension: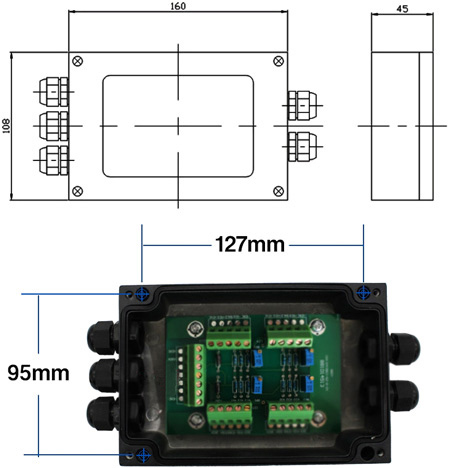 Load cell junction box with 4 inlets to 1 outlet wiring diagram: