Column type Load Cell 15 ton/20 ton/50 ton/100 ton/150 ton to 200 ton
Column type load cell is a compression load cell with high capacity. It can be widely used in pharmaceutical and chemical, coal metallurgical industry, and electronic truck scale, rail weighbridge, warehouse scale, hopper scale, etc.
The elastic element of column type load cell can realize integrated design of elastic elements and swing posts. In other words, elastic elements and double spherical swing posts are integrated into one whole structure. Its elastic elements can also help automatically achieve self-alignment and self-spacing of the double-spherical swing post, decrease the loader height and improve stability.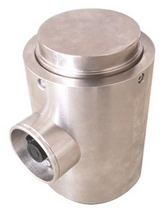 Column type load cell specification
:
| | |
| --- | --- |
| Model | ATO-S-LCCT-TJH-3 |
| Shipping weight | 7.4~33.8kg |
| Capacity range | 15 ton~200 ton |
| Accuracy | 0.05~0.1%F.S (linearity + hysteresis + repeatability) |
| Sensitivity | 2.0±0.1mV/V |
| Creep | ±0.05%F.S/30min |
| Zero output | ±1%F.S |
| Temperature effect on zero | ±0.03%F.S/10℃ |
| Temperature effect on output | ±0.03%F.S/10℃ |
| Operating temperature | -20℃~+65℃ |
| Input impedance | 380±10Ω |
| Output impedance | 350±3Ω |
| Insulation resistance | ≥5000MΩ |
| Safety overload | 150%F.S |
| Bridge voltage | DC 10V |
| Material | Alloy steel |
| Protection class | IP67 |
| Cable length | 5m |
| Wiring | EXC+: Red, EXC-: Black, SIG+: Green, SIG-: White |
Column type load cell dimension:
Capacity
Dimension (mm)
ΦA
ΦB
ΦC
ΦD
H
E
M
SR
15~30 ton
86
73.5
56
40
140
129
10
200
40~60ton
100
87
68
80
150
133
12
350
100 ton
107
91
68
80
150
156
16
500
150~200 ton
158
139
100
120
220
201
16
1000